EV: The Fleets of the Future
For organizations seeking both economic return-on-investment and green energy benefits, there's no option more exciting and valuable than converting to new electric vehicle (EV) fleets.
Is your organization on the verge of embracing the conversion from internal combustion engines to EVs, but unsure of which vehicles will produce the best results and offer the highest return on investment?
Data-driven vehicle usage analytics is the key to determining economic benefits and GHG reduction opportunity. We call this the "Suitability Score," and it's the core of Evelocity's Fleet Electric Vehicle Transformation service.
Our methodology moves fast to produce valuable results.
Here's what you can expect from this service:
Evaluates the electric vehicle suitability for each and every vehicle in an organization's fleet, by investigating usage patterns, mileage and more

Presents the projected economic return-on-investment of transitioning to EV  fleets, along with projected reductions in greenhouse gas emissions

Evaluates all of the charging infrastructure requirements to support the transition

Includes implementation plans, all budget information, and final reporting documents

The educational process of the methodology helps organizations to embrace the long-term opportunity of EV fleet conversion
This service offering brings all of the critical planning details together in a final report, which can be used as a management tool to give organizations the direction they need to succeed.
Our team is built of national leaders in analytics and station engineering, including Sawatch Labs and LilyPad EV. Together, we work to pave the road for EV.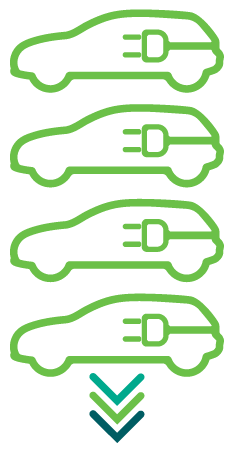 America's new roads are destined to be electric… embrace this change with the help of our Fleet Electric Vehicle Transformation Service Offering. Evelocity can answer your questions and support you through every step of the process.
Paving the Road for EV
Contact Evelocity today for more information